Banish Burnout with
Sustainable Self-Care Habits
VIP Experiences


for Entrepreneurs
that Have NO Time for Themselves 
Hey! I'm Joanna,
Wondering how I know about being burnout?
Cause I've been there, I understand how difficult it might feel right now to reclaim energy, time and space for YOUR self-care. That's why it's my mission now to use all the tools I learned to support you to create better self-care practices for YOURSELF!
I support burned out entrepreneurs to heal their relationship with overwork through self-care. We do that by creating a balanced lifestyle that gets the results you desire while also feeling restful and joyful!
The truth is that there's never gonna be a better time to focus on YOUR self-care than NOW.
I know what you're thinking,
"I am already struggling to get things done, I need to take care of my family and I need to grow my business…….I can't squeeze one more thing into my plate, even though it's to take better care of myself!"
or "I'll have time for self-care when my business is well-established."
or"It's just one more month til my launch is done, I will find time for myself then….."
But the truth is, if you don't set a good self-care foundation now, I am afraid you'll burn out……..bad
Creating YOUR Self-Care Foundation Doesn't Have to be Difficult!
This is something that you can begin to implement immediately and start to see results as you continue to manage what feels like an overworked and overwhelmed life!
With YOUR Self-Care Habits in play, you'll notice that you feel less stressed out, more in control of YOUR day, and you'll finally be able to relax, get better rest and enjoy YOUR life of ease.
I've Got The Perfect Opportunity For YOU
✦ The Solopreneur's Self-Care System VIP Experiences ✦
Move from Stressed & Overwhelmed to Focused & Joyful with These Deep Dive  Perks:
Clarity on your v

alue-aligned lifestyle

Intentionally spend your time and energy on things that matter to you
Accountability for one year to get you to stick to the new habits
Bonus: Your Own Life Dashboard in Notion
Book a 30 min Chemistry Call to see if we're a good fit!
There's no commitment, pressure, or obligation.
Get YOUR Self-Care Recipe: NESTS!
Want to know how to have a more balanced life?
These five ingredients are here to help you figure out what're the necessary baby steps to take on YOUR self-care journey!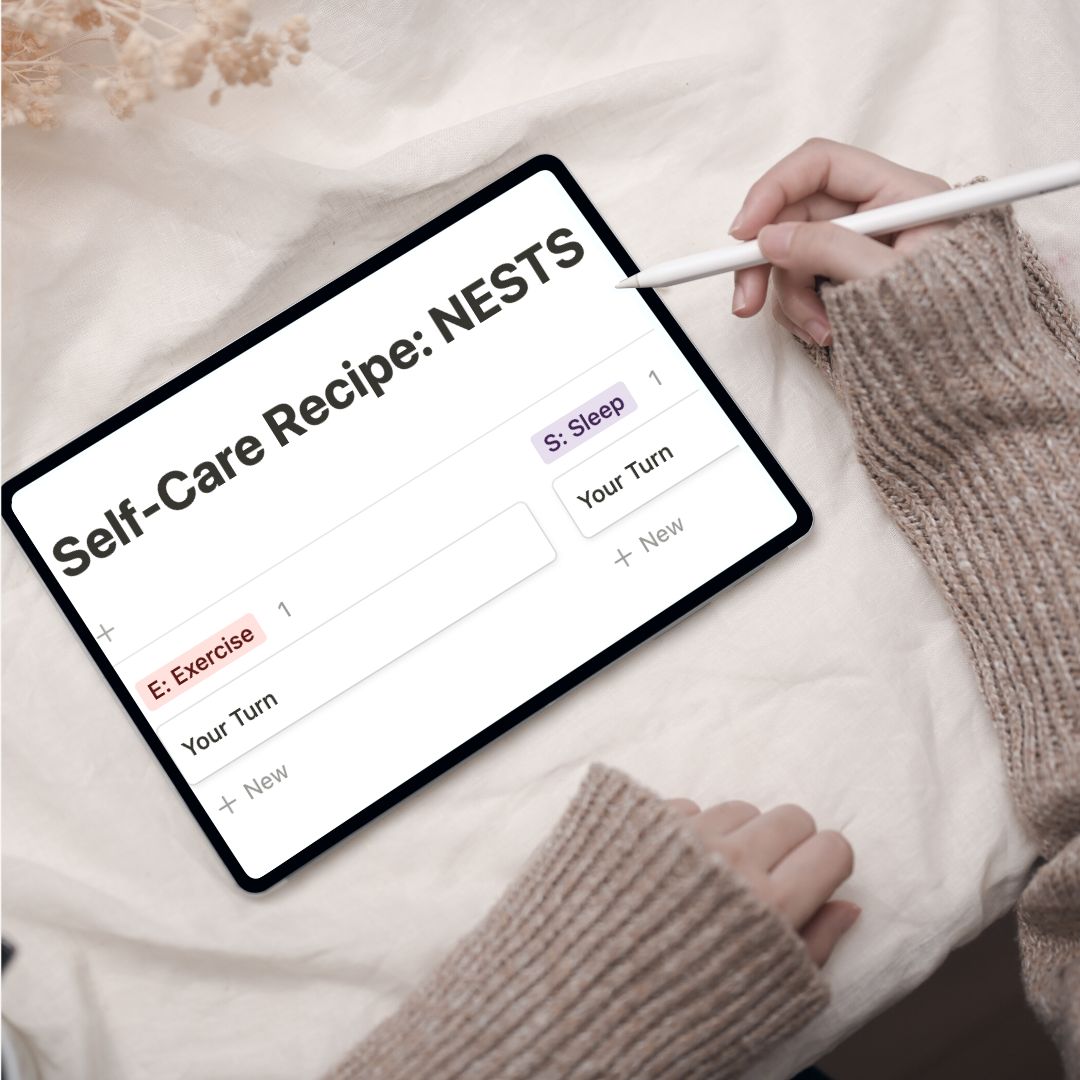 Sign up for the weekly email series
Let's make your self-care sustainable and long-lasting together!